A Fond Farewell to Alistair
It is with deep sadness that we have to announce the untimely passing of our work colleague Alistair Oliver after a brief illness.
He will be fondly remembered by everyone here at Roofing and Salvage, and our sister companies Pinnacle Slating & Tiling, and Primoris Homes.
After a number of years serving in the Army, he became a lorry driver and joined the company as our Hi-ab crane lorry operator.  Often starting his day in the middle of the night, he was never short of advice for other drivers who got in his way!
As a keen fisherman, he would spend many hours in the office talking about the 'one that got away' with our MD Dave.
Our deepest condolences and thoughts go out to his wife Sarah, daughter Louise and all of his family.
He will be sadly missed by everyone.
RSD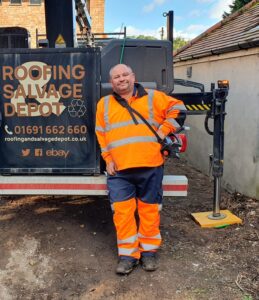 Meet the new addition to our expanding fleet
Over the past 2 years, the business has been steadily growing, so much so that it was obvious that we needed a second crane vehicle to make customer deliveries.
Last week our new DAF crane lorry arrived after being sign written up.
This will make a huge difference and reduce our customer delivery times.
The new lorry is slightly smaller, but can still carry just over 8 tonnes.
It gives us more flexibility to deliver to locations where there is reduced access.
Please get in touch with our sales team for a quotation on 01691 662660
Mark & Kelly's Experience
Some great feedback we have received from two very happy customers.
Good afternoon Roofing and Salvage
I just wanted to leave some feedback on my recent experience of using your business. Many people only ever make contact or leave feedback when it is negative or to complain about something.
My feedback is to the contrary, I could not be more impressed with such great customer service and care from every person I have encountered at Roofing and Salvage. My first discovery of your business was back in February when I was having an Oak Framed Porch built on my barn and I required some slates. However, I also left with a Canadian fire extinguisher from your showroom as it looked fantastic a rare find.
Your yard was so well laid out and tidy it was easy to navigate the staff were courteous and friendly and helpful throughout, there is no hard sell just quality products which are well displayed with staff who want to help you fantastic.
Upon this experience I decided to purchase some Granite Setts from you for a landscaping project again the customer service was fantastic same afternoon delivery and helpful throughout. However, the novice builder that I am ordered two tonne to many for the job on asking would there be any possibility of you purchasing these back immediately I was expecting the answer to be no as it was my own fault, which it was.
To the contrary yes of course we can was the answer. Again, the communication with my wife when these would be picked up was clear and a more than helpful driver came when was stated. Within half an hour of pickup of the Granite Setts we received confirmation and receipt of the goods, and that you would refund the monies wow what service.
I am writing this as the normal experience you would get in a normal builders yard is no sir you over ordered this is your responsibility and not ours, not here, nothing is too much trouble great service and a great local business in which I cannot recommend highly enough.
I work as an Assistant Principal for Cheshire College South and West (CCSW) and once we are through this pandemic would love to show case your business to our construction and business learners as they will go to work in the industry and on heritage restoration and they should all know about great suppliers like yourselves to use in the future.
Thank you once again
Kindest regards
Mark & Kelly Parsons
Meet the new R&SD truck
Meet the new Roofing & Salvage Depot truck.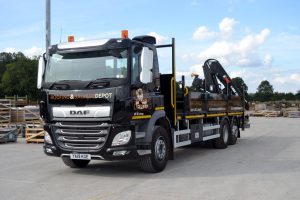 This DAF truck, complete with HIAB crane, makes delivering our large and heavy goods so much easier. We're really pleased with it.
We are going to be taking this truck all over the country in order to make large deliveries to our customers. If you would like something delivered, please let us know and we can get you an accurate quote.
Call us on 01691 662660 today.
Final touches to our new yard
Primoris Homes, who are going to be sharing this yard with us, built this premises to be specially designed for our needs.
Most of our stock is now up here and we will be moving our offices over very shortly. We can't wait to show you all the finished building.
Click here to view more photos of our new yard.
Bank Top yard update
Roofing & Salvage Depot will be moving to Bank Top Industrial Estate in St Martins in the very near future. We will keep you updated on the progress.
This new yard will give us much more space for our products, making it easy for customers to view everything we have in stock.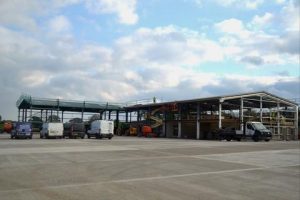 Roofing & Salvage Depot's new yard is progressing
The steels are currently being put up, as you can see from the above image. This is where both Roofing & Salvage Depot and Primoris Homes' offices will be situated, as well as our warehouse.
Whilst building our new yard and offices at Bank Top in St Martins, we have chosen to be as environmentally conscious as possible.
We have appointed Dragon Drilling and Hafod Renewable Energy to install a 60Kw NIBE ground source heating system in the new building. This will supply heating to the showroom and offices, using a state of the art underfloor heating system.
The new building and offices will also be supplied with 100% green electricity with Green Energy being our chosen supplier.
We are expecting to see significant progress on the site within the next week as a large amount of stone is being delivered.
We are looking forward to moving our stock over to the new yard and will keep you up to date with the progress of the build.
For more information, please contact us on 01691 662660.