Flat
If you're looking for roofing that is cost-effective whilst quick and simple to install, flat roofing is an ideal option for you. We have a variety available that is durable, easy to use, easy to repair and has a long lifespan. Whatever your requirements or budget, with large stocks and fast delivery, we can offer a solution for you.
Diamond GRP Roofing System
Diamond Glass Reinforced Polyester (GRP) is a composite material made from a polyester resin which is reinforced by chopped strand mat (CSM) glass fibres to form a GRP laminate. The Diamond GRP roofing system is constructed from a single-ply laminate applied in situ over 18 mm OSB3 deck. The roof is finished with GRP edge and a coat of Diamond GRP topcoat. When used for roofing, GRP provides a completely weatherproof system without any of the problems associated with traditional flat roofing materials.
Why choose this?
Formulated only for the roofing industry, making application straightforward and cost-effective
Full system guaranteed 25 Years
Demo days available upon request
EPDM Roofing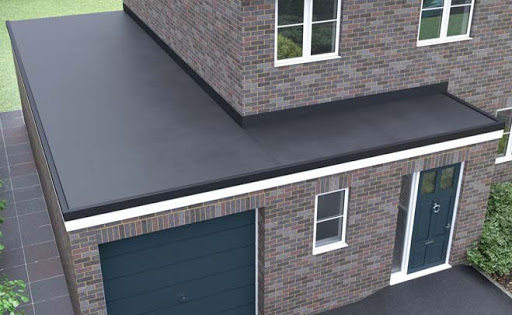 EPDM roofing is a highly durable synthetic rubber roofing membrane, popular for use on low-slope buildings. Modern EPDM roofing is available in rolls and is created using two main ingredients: propylene and ethylene, derived from natural gas and oil. EPDM roofing is also moss and algae resistant.
Training can be provided.
Why choose this?
Durable
Easy to use
Long lifespan